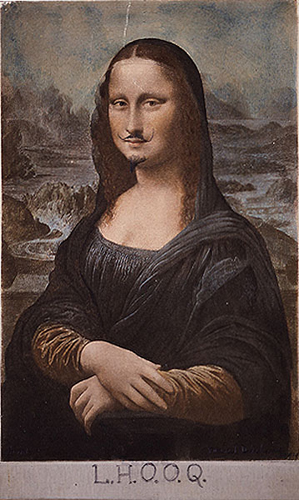 "For centuries, art historians have been troubled by Mona Lisa's enigmatic smile - but, according to one doctor, her cholesterol levels were more worrying. For Dr Vito Franco, from Palermo University, she shows clear signs of a build-up of fatty acids under the skin, caused by too much cholesterol. He also suggests there seems to be a lipoma, or benign fatty-tissue tumour, in her right eye."
--
BBC, 2010
"Recently, it has been speculated that Mona Lisa's famous smile is caused by facial muscle contracture and/or synkinesis after Bell's palsy with incomplete nerval regeneration."
--
Klinikum der Universität Düsseldorf
. (article in German)
"It is believed, however, that the Mona Lisa does not smile; she wears an expression common to people who have lost their front teeth. A close-up of the lip area shows a scar that is not unlike that left by the application of blunt force. The changes evident in the perioral area are such that occur when the anterior teeth are lost. The scar under the lower lip of the Mona Lisa is similar to that created, when, as a result of force, the incisal edges of the teeth have pierced the face with a penetrating wound."
--
Journal of Forensic Sciences, 1992
"Why is she looking so sad? . . . She married at the end of 1488 when she came to Milan but she had a big problem. She married her cousin, a beautiful man but he was a drinker, and he had problems with impotence."
--
The Age, 2004
"Researchers studying 3-D images of the "Mona Lisa" say she was probably either pregnant or had just given birth when she sat for Leonardo da Vinci's 16th-century masterpiece. "
--
Associated Press Sept. 27, 2006
"People have long been fascinated by Leonardo da Vinci's Mona Lisa. Her enigmatic smile has been the subject of debate for centuries, even leading Sigmund Freud to speculate that the painting was actually da Vinci's self-portrait."
--
Medhunters.com
"The Mona Lisa originally had eyebrows, according to a French art expert who has analysed Leonardo da Vinci's masterpiece with a special camera."
--
Telegraph, 2009
"University of Illinois researchers last year used facial-recognition software to analyze the Mona Lisa's enigmatic smile. They concluded the model was happy, with touches of disgust, fear and anger, at least as Leonardo da Vinci painted her, the Champaign (Ill.) News-Gazette reported Tuesday."
--
Physorg.com, 2006
"For centuries, artists, historians and tourists have been fascinated by Mona Lisa's enigmatic smile. Now it seems that the power of Leonardo da Vinci's masterpiece comes in part from an unlikely source: random noise in our visual systems."
--
New Scientist 2004
"What put that smile on the Mona Lisa's face? S-E-X! She was a 16th century hooker!"
--
Weekly World News, 1991
Addendum:
"A spring-propelled car that Leonardo da Vinci conceived five centuries ago could have paved the way for the Mars rovers, researchers say."
--
ABC News, 2004
Update:
"A male apprentice, longtime companion and possible lover of Leonardo da Vinci was the main influence and a model for the Mona Lisa painting,
an Italian researcher said
."
-- CBC, 2011